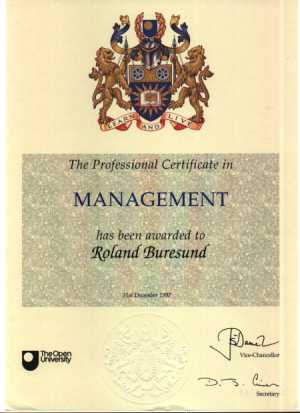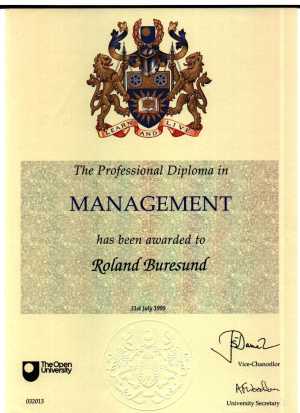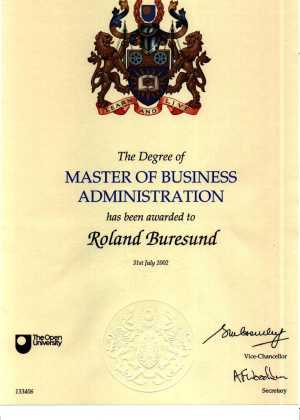 At long last, after five years studying distance courses and having meetings all over Europe (Milan, Munich, Frankfurt, Den Haag, Paris, Manchester, Birmingham, Milton Keynes, Winchester, Brussels, Amsterdam, Cambridge, Geneva, and a number of strange towns in the UK which I no longer remember the names of) and after having written numerous assignements and been sitting too many exams, I get my award!!!! Happiness is the three letters MBA!! And the added bonus of a lot of frequent flyer miles. A quick estimate, shows that I spent about €50.000 on travel, €20.000 on lodgings, €15.000 on books and other materials and approx. €25.000 in fees, which gives a grand total of €110.000 plus some additional expenses (let us assume another €10.000). This means that different employers spent €120.000 to ensure that I would get my MBA (all done via contractual obligations). Now when I am finished, I think it was worth every penny (but it wasn't always so). The next project right now is to get other non-MBA Swedes to understand what the difference is between a BSc in Economics and an MBA (which Sweden of course doesn't recognise, regardless of AMBA and EQUIS status, as we don't have any MBA awards here). Sigh, I've got work to do.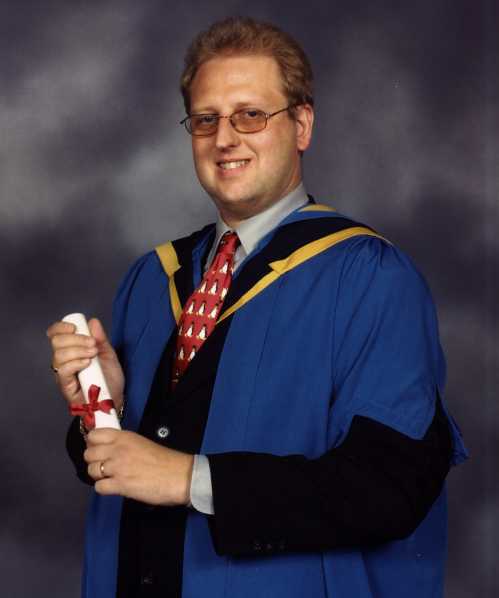 The proud exam photo (don't you love academic dress? Those with good eye-sight will notice the Linux penguins on the tie.)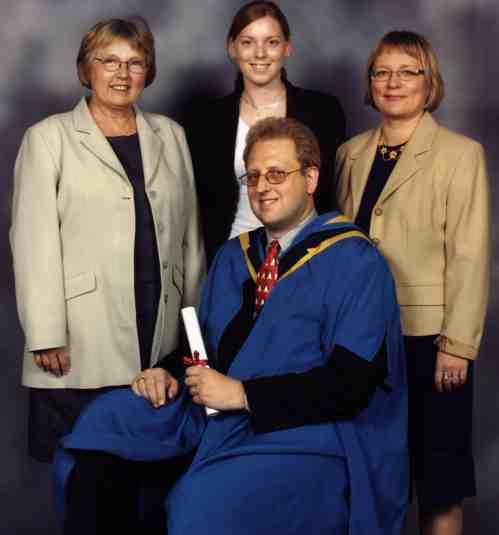 From left to right: My mother Anita, my Sister Annika (Nikko), Me and my Wife Riitta (which stood by me while I studied, even if she could get pissed from time to time. Hell, she even forced me to take a one year sabbatical, just because we had a child …).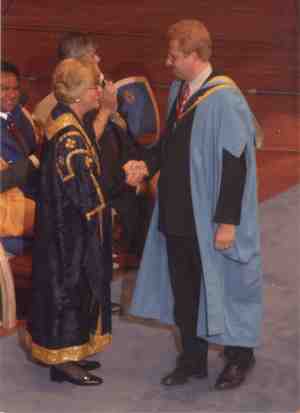 The traditional handshake and congratulation from the Headmistress (this sounds naughty… better not tell Riitta. Ah shit, she's in the audience!)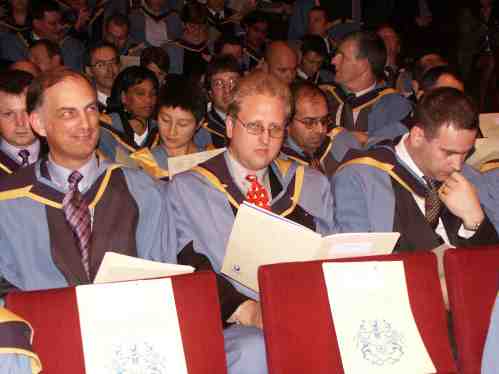 Some of my colleges and myself just before the event.
The Graduates itself from the The Year of 2002
Croydon Graduation — 28th September
Lincoln Abbots
Margaret Alston
Rita Anderson
David Andrews
John Ashcroft
Howard Bailey
Robert Baker
Dieter Barnard
Deborah Bates
Jane Bell
Bharatendu Bhatt
Rosemary Bird
Rachel Blackamore
Simon Blackburn
John Blagden
Bortier Bortey
Martin Bradford
Stephanie Brehcist
Thomas Brennan
Johanna Briant
Eleanor Bridge
Christopher Brown
James Brown
Stephen Brown
Woodrow Bryan
Roland Buresund
Michael Bursell
Tariq Butt
Joan Callaghan
Lottie Caramba-Coker
Clive Carey
Lynette Carr
Sarah Carroll
Stephen Catchpole
Kevin Challis
Jill Chan
Caroline Chant
Victoria Charles
Paul Charlton
Jonathan Clegg
Natia Coghlan
Ian Corless
Richard Cornish
Russell Corrie
Stuart Colgrove
aul Cousins
Christopher Cowlard
Vanessa Crane
Stuart Cross
Gary Cumbers
Michael Currie
Xiulan Dai
Harish Davda
Marie Davis
Valerie Davis
Anne de Florinier
Chitra de Silva
John Deacon
Michael Drage
Lia Duarte Jenkinson
Nicholas Duffy
Alexandre Dumas
Steve Dunn
Nikolas Duvnjak
Mavis Edwards
Sean Elliott
Franc Etu-Menson
William Evans
Claire Farmer
Steven Farmer
Ingrid Ferguson
Gillian Findler
Peter Flaschner
Alison Fletcher
Andrew Flint
Andrew Forgan
Alan Fowler
Brenda Fraser
Keith Frenchum
John Frieslaar
Jane Gadenne
Wendy Gallivan
Ian Gapper
Andrew Gibbs
Caroline Glass
Deborah Glynn
Alan Gravett
Jonathan Green
Breid Greene
Zoe Grosscurth
Nader Haghighat
Constance Hall
Kenneth Hardacre
Stefan Harra
Peter Harris
Jan Hellings
Kelly Hennessy
Stephen Hodge
Richard Hoff
Sarah Holdstock
David Hope
Ronald Hope
Paul Hopkins
Clare Imms
Sham Jain
David Jarvis
Cheryl Jegede
Steve Jessop
Valerie Jessup
Karen Joel
Brendan Johns
Fiona Johnston
Andree Keddle
Anthony Keddle
Teresa Kelleher
Cindy Kemp
Richard Kilvington
Madeline King
Mark Knight
Prasun Kumar
Glen Laxton
Bridget Le Huray
Cara Leck
Trevor Leck
Angela Lethern-Palmer
Shirley Lewald-Jezierska
Yul San Liu
Paul Lockhart
Yvonne Lovering
Margaret Lowing
Jacqueline Lucas
Martin MacPherson
Rinda Magrath
Elizabeth Maher
Lee Maher
Patrick Mallan
Valerie Mann
Rebecca Martin
Deborah Mbabazi
Claire McLoughlin
Ann Metcalf
Terence Metcalfe
Stanley Miller
Caroline Mitchell
Jonathan Mobbs
Gary Morris
Julie Morris
Pauline Msesengwe
Peter Murdoch
Edward Musial
Shwe Myint
John Nath
Andrew Neal
Robert Neesam
Alastair Ness
David Newman
Peter Newson
Laurence Nicoll
Marie O'Dea
Peter Oke
Aderemi Okeshola
Neil Oldham
Christopher Ollive
Jo O'Reilly
Lesley Owen
Trevor Owen
Esther Oyetan
Devendra Patel
Sylvie Patel
Christopher Pearson
Jacqueline Pearson
Madeleine Philpott
Kim Plummer
James Pool
John Potter
Anthony Potts
Bevan Powell
Rozmina Premji
Leszek Puscczynski
Hannu Pyysalo
Paul Ralton
Carl revell
Eugennie Richardson
William Roberts
Seamus Rooney
Jennifer Rudman
Colin Russell
Fiona Rutherford
John Sanders
Jennifer Saville
Victoria Semark
Debbie Shaw
Michelle Shirley
Daniel Short
Derek Smith
Pamela Smith
Hansa Solanki
Patricia Squires
Barbara Stanley
Chatherine Stevenag
Peter Stevens
Kevin Stirk
Sylvia Stirling
Peter Stone
Clive Thomas
Nicole Tilling
Bruce Tompson
Josephine Tuck
Paul Vandenberghe
Michael Vasanthakumar
Martin Veitch
Konstantinos Venos
Sanjana Vijapura
Timothy Wakeman
Timothy Wand
Geoffrey Ward
Ian Ward
Richard Warrington
Julian Watts
Mary Watts
Jonathan Wayne
Linda Webb
Gillian Webley
David Wellman
Robert Whiting
Michael Wibberley
Timothy Wilson
Evan Winter
Rita Woditsch-Ogle
Simon Wood
Jacqueline Woodland
Stuart Wright
Patrick Wynne
Graham Yoxall
Imed Zabaar
Atif Zia
Aftermath
OK, I am now officially over-qualified for all jobs that I look at alternatively too old with too little experience after the MBA award, as Swedes either don't understand what an MBA is or is in too much awe of it. Sigh. According to the Lissabon Convention and the Bologna Agreement (which Sweden has signed according to Högskoleverket), the signatories agrees to recognise each others university awards. Of course, I still needed to apply for a recognition, which I did in September of 2003 and was awarded in February 2004 by the Swedish National Agency for Higher Education! Also, by enrolling in the association of Civilekonomerna, I'll gain the right to call myself a Swedish Civilekonom (granted, I could do it anyway, as the title isn't protected in Sweden, but it is more fun to have some proof of right).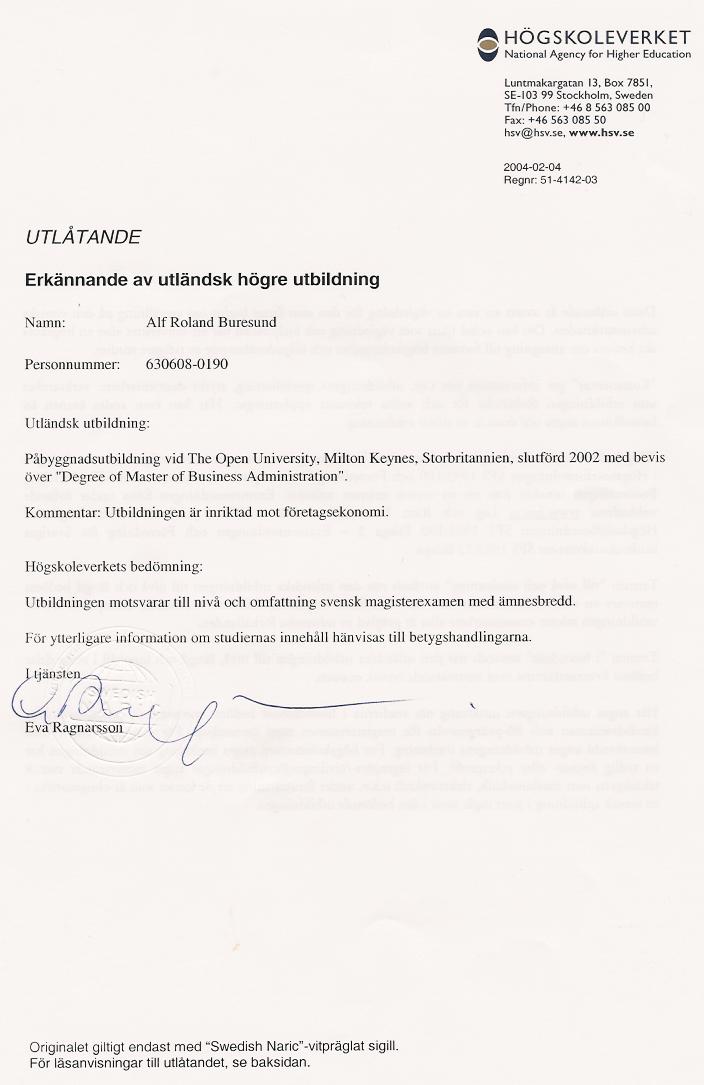 As of 7 January 2004, the association of Civilekonomerna decided that my MBA is equivalent to a Swedish Bachelor degree in Economics! I am now officially a Swedish Civilekonom, even though I have to apply again for a Diploma… Sigh!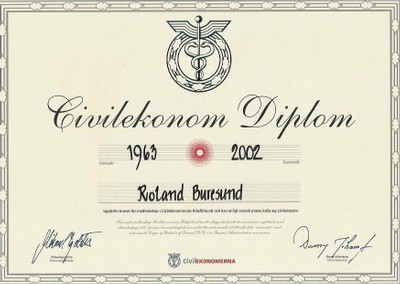 And then I got my Civilekonom diploma as well, extremely hassle-free, from the Association of Economists. Thank you!
Some words that describes the MBA
The University of Warwick
The MBA is a globally recognised qualification in the management field. It offers new perspectives to managers by providing an understanding of the major functions and challenges of business. Participants are attracted to the MBA for a number of different reasons. An MBA allows you to expand your knowledge and understanding of business. This might be as a vehicle for career progression or career change. MBA participants typically have worked for between four and ten years after graduation, although some have up to thirty years professional experience.
The Telegraph, 14 February 2004
What do you get from an MBA? Most people take the qualification to improve their career prospects and earning potential. And the evidence suggests that the MBA delivers on both fronts. The qualification provides senior managers who already have experience in business with an opportunity to enhance their skills and knowledge and gives them a basic grounding across all aspects of business. … The Association of MBAs is widely recognised as the global standard for the qualification and has accredited only 83 Business Schools worldwide. If you are thinking of studying in the States you should check whether your choice of school is accredited by the US body: the AACSB.
AMBA Certified Distance Learning MBA's February 2004
First off, there exists other bodies than AMBA, but none is universially accepted as them (except of course the AACSB) and is of dubious utility. Please observe also that the EQUIS rating is a Educational Quality mark, given by the European Comission and does not guarantee the contents of an MBA. Also, please understand that an M.Sc. in Accounting or Economics or Business is not the equivalent to an MBA (see this page for more clarifications) and that AMBA certifies specific programmes, while AACSB certifies whole schools.
School
Programme
Country
Comment
Aberdeen Business School
Online / Distance Learning MBA
United Kingdom
Aston Business School
Distance Learning MBA
United Kingdom
Also AACSB. You have to live in the UK.
Bradford University School of Management
e-MBA
United Kingdom
Brunel Graduate Business School Brunel University
The Brunel MBA – Distance Learning
United Kingdom
Excluding Marketing and Sports Management
Durham Business School
Distance Learning MBA
United Kingdom
Haarlem Business School
Kingston MBA
Netherlands
Henley Management College
Distance Learning MBA (e-Learning)
United Kingdom
Also AACSB
Henley Management College
Distance Learning MBA (Project Management)
United Kingdom
Also AACSB
Institute of Financial Management (Manchester Business School/University of Wales, Bangor)
Distance Learning MBA (Financial Management)
United Kingdom
Also AACSB
Institute of Financial Management (Manchester Business School/University of Wales, Bangor)
Distance Learning MBA (Engineering Business Managers)
United Kingdom
Also AACSB
Institute of Financial Management (Manchester Business School/University of Wales, Bangor)
Distance Learning MBA MBA Wealth Management
United Kingdom
Also AACSB
Kingston Business School
Open Learning MBA
United Kingdom
Leicester University Management Centre
Distance Learning MBA
United Kingdom
Open University Business School
Distance Learning MBA
United Kingdom
Also AACSB. My old Alma Mater
Business School Oxford Brookes University
OIIF/ACCA Online MBA
United Kingdom
Royal Military College of Science Cranfield University
Flexible MDA
United Kingdom
Also AACSB
Royal Military College of Science Cranfield University
MSc Defence Management Flexible
United Kingdom
Also AACSB
Graduate School of Business The University of Strathclyde
MBA in Leadership Studies
United Kingdom
Also AACSB
Graduate School of Business The University of Strathclyde
Flexible Learning MBA
United Kingdom
Also AACSB
Warwick Business School
Distance Learning MBA
United Kingdom
Also AACSB